A great vacation does not have to cost a lot of money. It does not even have to consist of weeks away from work. They are not built by exotic locations or special events. A life-changing vacation is based on love and love is demonstrated by giving. I think back to all the times that meant the most to me and they were times where we were able to share our hearts, laugh together, cry together and talk about future plans and goals. It really wasn't about the food, weather or activities, but about each other.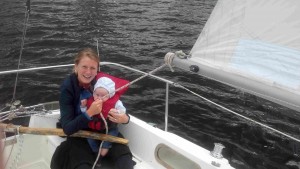 The last two weekends we have enjoyed spending time away. Over Labor Day weekend our staff met at the Northwoods Conference Center in the Upper Peninsula of Michigan for a  retreat  with the people David works with and enjoyed times of volleyball, sailing, water sports as well as sessions taught by Bill Gothard, who kindly sponsored the staff retreat. The seasons of fellowship were very special and will not soon be forgotten.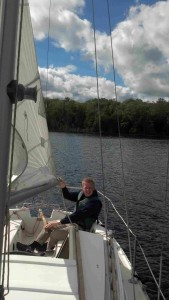 David tried his hand at sailing for the first time last year and had fun, but this year he took it to a new level taking groups out for rides. Thanks to a weather front moving in, there was enough wind on the small lake to have a good time.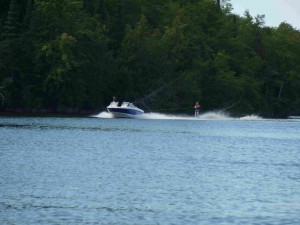 David tried to wake board for the first time, but after several unsuccessful tries, he went back to his old favorite–water skiing.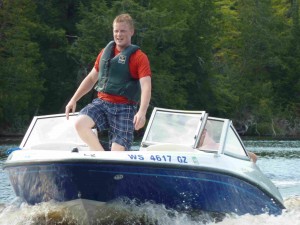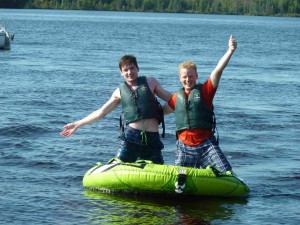 After getting nearly warn out with skiing, David went for a final round on the tube with a coworker.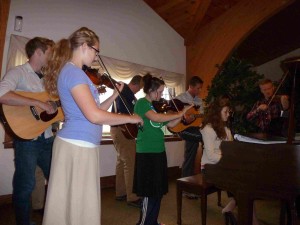 One of our highlights was when a bunch of different staff young people would pick up their instruments and jam together playing some good old hymns of the faith. We especially enjoy the hymns because of the depth of truth conveyed in them that seems so lacking in the modern contemporary choruses. Here is a little clip from one of the evenings:
[youtube]http://youtu.be/uGlh4JebP58[/youtube]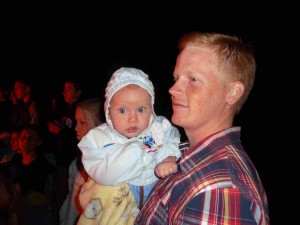 Down at the campfire on our last night of the staff retreat, Paul and David enjoyed listening to different ones share their highlights of the weekend as well as what they have benefited most from this past year.
Paul's First Camping Trip
[youtube]http://youtu.be/fkX4-ecFXSU[/youtube]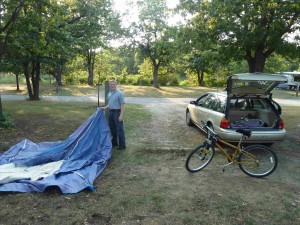 On Friday afternoon, we drove to a State Park not far from our house for a mini camping trip making it Paul's first night under the stars.
[youtube]http://youtu.be/vKij5MKXrYU[/youtube]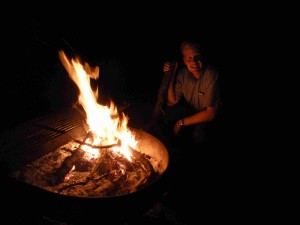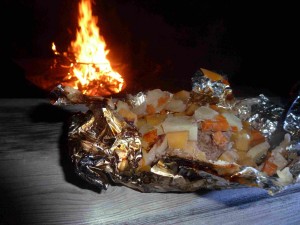 Priscilla had prepared what we call foil dinners and we were in for a treat! She diced three huge potatoes, three carrots, an onion, four cloves of garlic, a small rutabaga, a pound of beef divided into four individual meals which were wrapped twice in foil and placed on hot coals for 10 minutes on a side. Yum!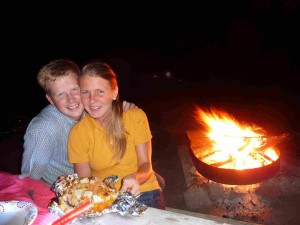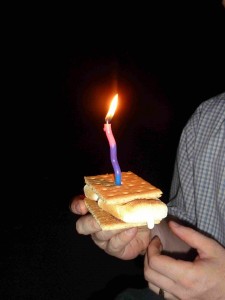 To top things off, Priscilla had prepared a special surprise to celebrate David's birthday, complete with a nice gift and a s'more topped with a candle.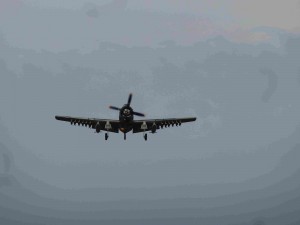 On the way home, we even got to see the last half of an air show with some old military planes. It was quite spectacular.
[youtube]http://youtu.be/gDnbZ2cwphs[/youtube]