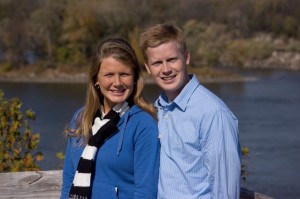 Thank you for wanting to know more about our lives and our family. The goal of our lives is to know Christ personally and help others do the same. Our mission is to advance God's Kingdom in every way and place that He leads. So far, this has included travel to Mexico, the Philippines, Romania, Australia and numerous cities from coast to coast in North America. We have really enjoyed serving the Lord and desire to do so with all the strength and energy that God gives us.
Raised in strong Christian families with conservative Biblical values, both of us were involved in ministry with our families prior to marriage. This really prepared us for the current opportunities that God has brought our way. Priscilla served with her family in many types of ministry including her dad's ministry to the incarcerated. She has also ministered to young ladies through retreats, camps and speaking at conferences. David over two years serving with his family as missionaries in Mongolia as well as many other ministry opportunities. As a married couple with children of our own, we have enjoyed ministering to young and old alike focusing on applying Biblical truths to help people resolve parent/teen conflicts, overcome financial pressures, and develop marriage oneness.
Our vision is to impact the world for Christ. Whether by raising the foundations of many Godly generations or sharing the Good News of Salvation and seeing people come to the saving knowledge of Jesus Christ, we desire to lead lives fruitful in advancing the Kingdom of God.
We are greatly blessed to have four precious children. Priscilla enjoys caring for them as a stay-at-home mom while also reaching out to young ladies the Lord brings across her path. David enjoys working full time at a ministry as well as preaching or sharing the Gospel when opportunities arise to do so. We are educating our children at home and are grateful for the opportunity to invest in the lives of the children God has entrusted to us. We also enjoy hospitality with many who come to visit. We are so blessed to have folks in our home to learn from as well as invest in through teaching God's Word and attempting to model what a home centered on our Lord Jesus Christ looks like.
We enjoy adventure and have no lack of action. Life is never boring! We enjoy playing pick-up sports such as volleyball and soccer or going on a couple mile jog or a nice long bike ride together. We also have been blessed to remodel the home we live in as well as a few other homes for others to enjoy. We are blessed to be a part of a church that allows us to serve in a variety of capacities.