My parents met just two weeks after my dad became a Christian. He had been really searching for lasting answers when he met a missionary who had been a prisoner of war during World War II. While in prison no Bibles were available, but this missionary was able to preach from the Gospel of John because he had memorized the entire book. Upon meeting, my dad saw something real in his life. It was a vibrant relationship with Jesus Christ. My dad learned what it meant to put your faith and trust in Jesus Christ alone for salvation and found that peace for which he had searched so long.
Two weeks later, my mother went on a church retreat and ended up sitting across the table from a man with a big scruffy beard and a real tender heart. They say of their first meeting, "It was simple conversation, like pass the salt and pepper that turned into a much deeper admiration for each other." My dad told her that he would visit her when they got back home. Sure enough, he showed up a few weeks later and was able to meet the family and get to know my mother. Two years later on November 16, 1974 my parents were happily married.
The first years were bright ones for the newlyweds. From the very first, they wanted to do something that had eternal significance. They heard of an opportunity to go to Suakoko, Liberia as house parents for a missionary school. They sought counsel of their parents who felt it best for them to "get an education first so you have something to fall back on if you fail on the mission field." Knowing that God could provide no matter what, but also knowing that God would work through that advice, my mom began nurses training and my dad who had just finished six years of electrical engineering training enrolled in some classes in Biblical studies including Greek and Hebrew.
Death to a Vision Fosters New Life
What turned out to be a death of their vision to serve the Lord actually made way for new life. As mom was finishing her last year of school and working part time, they were delighted to learn that she was expecting. They soon found out she was not just expecting, but twins were on the way. Not much travel would be possible now. In fact, with so much work to be completed to finish renovating the house, she soon found she had pushed herself too hard and the doctors advised that she be practically confined to her bed for the remainder of the pregnancy.
The firstborn came into the world on April 11, 1980 and my parents appropriately named him Adam, meaning first man. An only child for a whopping fifteen minutes spoiled him for life. Isaac came whose name means laughter, my parents knowing that if there are two there will be much fun. Derrick was born in 1982 named so because he would need to live up to the meaning of his name: strong leader. Finally, a little girl came into the world allowing the boys a little training in what it means to be gentle, contrary to their rough and tough nature. Rachelle helped bring order and balance to an otherwise chaotic "boy-strous" world. I am so glad to have an older sister, otherwise, I might not have gotten the spoiling that I did. Coming into the world with flaming red hair, bright blue eyes and pudgy cheeks, I was the object of attention.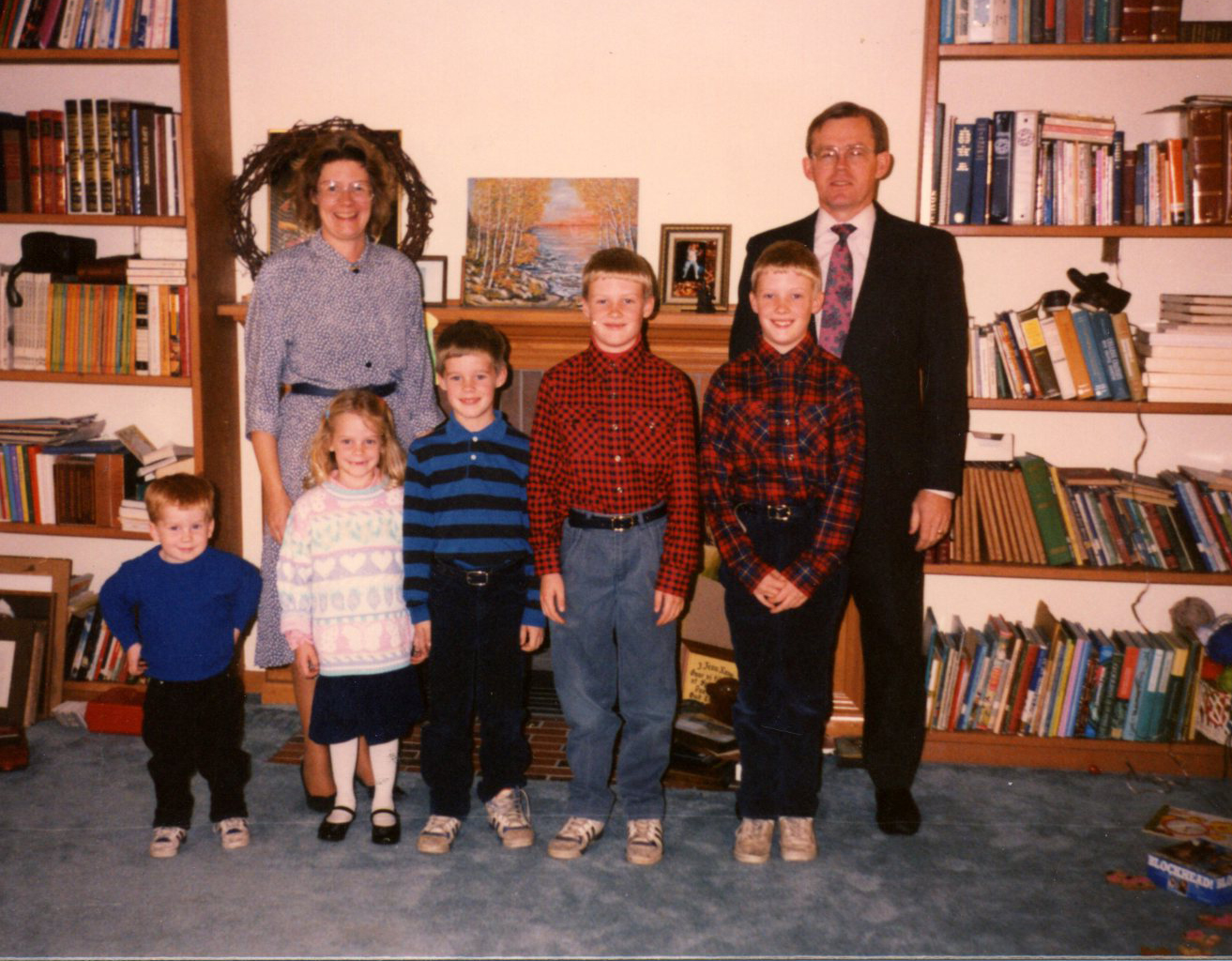 Born into a conservative Christian family, I learned early that the Bible was a priority in our lives and character was the true mark of maturity. About this time, my parents saw some negative influences coming from some of the things my older siblings were learning from their peers at kindergarten. They struggled to help them cope with the pressures, but finally half-way through first grade, the twins were pulled out of public school to begin a journey of educating at home. Life became our classroom and tests of our character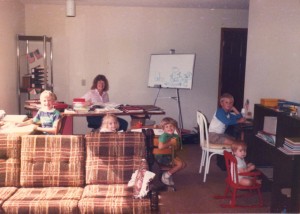 were really the determining factors of passing or failing not just in school, but in every aspect of life. For my parents, they were not as concerned with how many stacks of books we studied, but rather the attitude we had as we studied.
My little stature, winsome nature, and doting siblings did not ensure the development of good character in my life. In fact, at an early age I began to see that no one had to teach me how to sin, I did it quite naturally. It was toward the end of my third year of life that I recognized I was a sinner and that the punishment for sin is eternal separation from God in a horrible place of torment that He calls hell. I remember talking to my parents about my placing my trust in Christ as my only hope for salvation. I also remember the calm assurance that swept over my soul after giving my life to Jesus Christ and trusting Him alone for salvation.
Satan did not leave me idle. In fact, as the years went by I found I had doubts of my salvation. Just after turning twelve I had the incredible life-changing opportunity to attend a Basic Seminar just as my parents had done nearly fourteen years earlier. It was there that I made many important decisions including recommitting my life to Jesus Christ, dedicating my body as described in Romans 12:1-2, and making a commitment to read the Bible for at least five minutes every day. These and other decisions changed my life forever.
Growing up in a large family was an absolute blast! We loved being together, playing together, and being best of friends. All it took to have a party was to invite a family over from church and each of us had a new playmate to join to our already full load of fun. Even when it was an older retired couple, a widow in need, or a broken family, we enjoyed adding them to our already full house bustling with activity.
Necessity is often the moth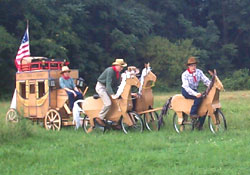 er of invention and because my wise parents did not splurge on many of the common forms of entertainment, we had wholesome creativity unfettered by bounds of what we had seen others do. Thus, we regularly came up with fun floats for parades including a tin-foil version of the Monitor and Merrimack with each of us children dressed up in soldier uniforms firing a homemade cannon. We also made an old Wells Fargo stage coach pulled by "horses" made out of cardboard! Even between events that rationalized us into making fun things,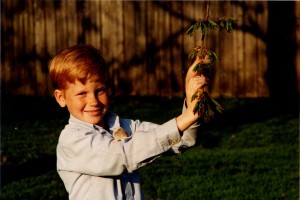 we made a sixteen foot kite and a model airplane, thanks to my older brothers converting an old Lawnboy engine to run on its side and making it into an airplane engine by carving a propeller out of a 2X4. Roller skating, building forts, climbing trees, fishing, breeding pet mice to sell to the local pet stores,and all sorts of pick-up sports games with neighborhood kids of all ages filled our free time.
Being that life was a classroom for us, my mother took special effort to make sure we all did our fair share o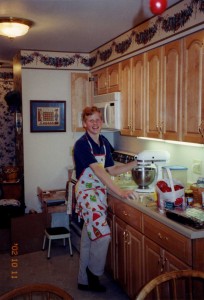 f cleaning, doing our own laundry, cooking meals, baking pastries, bread, or other treats for the many guests who frequented our home. We were all one team and it made no difference that it was us boys cooking in the kitchen, other than a little nosier production, or sisters doing yard work or painting the deck. We all pitched in and that made it fun.
One thing my parents wanted to train us all to become was energy-giving young people who had a heart to serve and encourage others. Thus, after church on Sunday we often would visit a nursing home or bring a meal to someone who needed encouragement. Seeing their lives touched paved the way to instill in us children a passion for ministering to people.
Life is an Adventure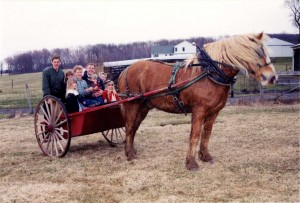 For sure, life never was boring! Sure there were moments where we had to think of a new way to do something more daring, adventurous, or dangerous to add a new flare of excitement to life, but by limiting our time per activity we were encouraged to use our time wisely. Another aspect that made life interesting for us and drew us closer together as a family were the frequent moves that came our way. My parents have counted moving over twenty-five times since they were married. Though I was born in Minneapolis, I felt like our nine years in Chicago were more like home. Moving out to Maryland allowed me to meet a whole new set of friends and gain new experiences like working at the horse-farm owned by successful investors.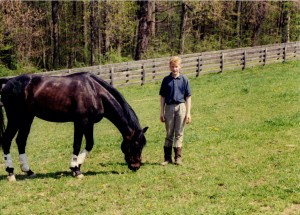 It was there I tried my hand at horse-training, cared for the animals of a hobby farmer as he went out of town, or pitched hay for the backwoods farmer down the lane. My parents put a high value on good work ethic so we learned how to heat with wood, care for a near acre garden with 164 tomato plants, and volunteer at a dairy farm a couple times a month.
Inspired by my own need for bolstering my energy, with some further knowledge I became fascinated by science and biology. My mom seeing my interests simply kept putting different books within my grasp. Before I knew it I was studying her nurse's textbooks on nutrition, college chemistry textbooks, and many biology books while only fourteen. I just assumed these were the next books to work on. Soon we moved back to the Midwest purchasing a farm in Northwest Wisconsin. My dad went into business for himself as an engineer doing building design. However, this was right as the economy began to turn for the worse. Thus, after nine hard months, he took an offer to work for a company in Duluth, Minnesota. Thankfully, he only had to make the two-hour drive each way twice a week and worked from home the other days.
God's School for Life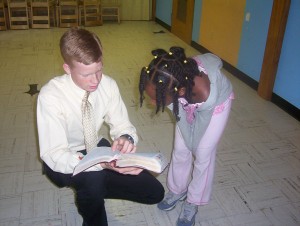 About this time, we met a young man who was volunteering down in Oklahoma City teaching character in the public schools. We at once decided this would be a great opportunity for us to develop further skills and minister to people. Thus, the five oldest of us siblings drove down for what would be the beginning of some critical training for the years ahead.
At fifteen, this was quite a stretching opportunity to learn how to stand before 5-700 young people from pre-kindergarten through 6th grade and capture and hold their attention for an hour-long school-wide assembly. We then would visit each classroom giving more age-tailored lessons. Visiting a different school every day on a two week rotation allowed us to meet and impact thousands of students encouraging them to make wise choices and develop wholesome character.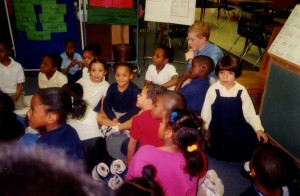 During this time, we saw many needs in the young people living in government housing projects. Officials kindly allowed us to teach weekly Bible clubs in their community centers. It was during this time that I learned how to connect with children on a far deeper level than just learning their favorite food or sport. Rather I learned the challenges and painful experiences they had faced and tried to help them see a perspective of hope on such things as their parents' divorce, their sibling's suicide, or the murder of their friend. I ended up continuing to serve there during the school semesters for the next two years. From there my brother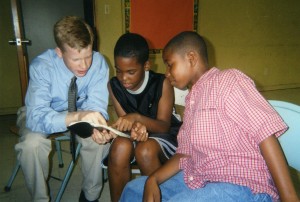 Adam had the opportunity to travel to Australia and then on to Mongolia. My brother Isaac became the Administrative Assistant to John Burnett, an Executive Director of Character First!. My sister Rachelle worked in Customer Service and Order Entry. After a time of interning both in the schools as well as in the State Capital, my brother Derrick returned to Wisconsin take up the work on the farm.
Are You an "M.K?"
My parents, still having the passion to enter into full time Christian work, sought counsel again and were given the blessing of our two remaining grandparents to embark upon the adventure of our lives. Some wise Christian leaders encouraged us to start small and expand gradually. So the whole family took a trip to work in an orphanage in Mexico for a week. After a successful and joyous trip we moved to Oklahoma City to continue work with the ministry there for five months. With that, we felt we were prepared to make the leap of going on an overseas mission.
Each of us began to prepare as best we could earning money on side jobs, being as frugal as possible, and asking God to send us just the right amount that we would need so we would not have to be a financial burden to any sending church. We were invited to serve in Mongolia and encouraged to have enough money set aside for several sets of tickets. The ministry there would cover the expenses of food and housing.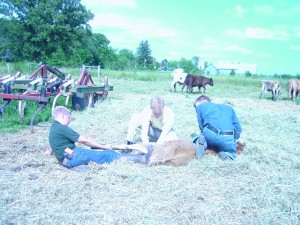 By this time all ten of us children were eager, excited, and prepared for the challenges that awaited us. No amount of excitement by itself, however, would produce the needed money for twelve tickets. It truly was amazing to see how over the next year God provided job opportunities to work for the farmer down the street, a house construction job, or the sale of an item we felt we could do without. It was also during this time that God provided incredible range of experiences that we would prepare us for the days ahead. I had the privilege of apprenticing both a veterinarian and chiropractor during this busy season amidst the other jobs.
I will forever remember seeing my younger siblings with joy and excitement receive a Christmas gift of brand-new Walmart bicycles only to turn around and return them and put the money towards our tickets. It was these types of sacrifices that made us all missionaries and never to consider ourselves to be the proverbial "M.Ks" that can end up being bitter and hurt over the sacrifices their parents made them make.
Are You Willing to Give Your Life for Jesus?
In fact, my parents did not necessarily make it easy. They wanted us to make the choice to go with them and serve others. I clearly remember my dad sitting us all down and looking at each one of us while asking, "Are you willing to give your life for Jesus Christ by serving in Mongolia?" Little did I know at the time how critical that question would be for our whole family.
On June 23, 2005, the entire family embarked upon an adventure I will never forget. I can remember going to the airport and pulling out all of our bags carefully weighed to just ounces under the 70 LBS weight limit. Two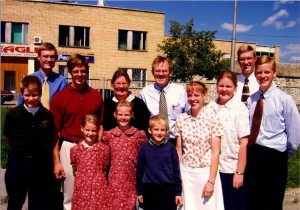 check-through bags were allowed per person, plus we had our musical instruments which we could carry on the plane with us. We had a carefully inventoried list of the major contents of each bag making sure we knew which one had the computer, sewing machine, or special stash of highly prized American chocolate which was unavailable in Mongolia at the time. I remember as one of the bags went through security and all the buzzers went off. A concerned security agent squared and asked, "What is the cylindrical object in your bag with wires coming out of it?" We quickly asked what number was on the bag and looked it up on our inventory. We named off everything we had put in the bag. However, nothing fit the description. Finally, they agreed to open the bag, but concern was written all over the faces of these security officers. They wiped the sweat from their brow when they pulled out a jumbo sized jar of peanut butter that had happened to fall next to a flashlight. Apparently, it is the same density as explosives.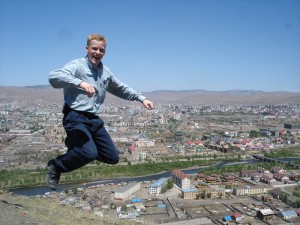 Arriving safely in Mongolia, we quickly set to work with a full schedule of character training or English classes in scores of businesses, schools, government offices, or non-profit organizations. Little did we know what would transpire next…
It was my birthday, so I was allowed to choose a fun activity for our half day off of work. I opted to pack a lunch for the family and climb a nearby mountain. Having enjoyed this type of activity many times before, I did not think much of it. It was on this trip, however, that we discovered that Isaac was not doing well at all. We did not find out that he had a rare form of cancer until the day he passed away.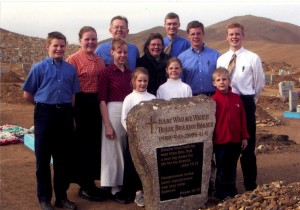 This chapter in my life had a huge impact on the choices I made from here on out. It was then I realized just how short life is. Isaac was only twenty-five when he passed away. I was spurred on by the question, "If I only live until I am twenty-five how much do I want to accomplish between now and then for the Kingdom of God." I began to realize how the many things I was doing may have been normal for young people my age, but would have no real eternal value or significance.
Picturing life as a race I began to see how much I could do for the Lord and for His Kingdom. Disciplines took on a whole new meaning: Bible reading, prayer, and journaling were just a difficult as normal, but I saw how important they were for me if I was to stay on track and reach the goal of bringing much glory to God before I die. Biographies of great Christians who had given their lives to the work of the Kingdom were a huge motivation, especially as I saw how God used the disciplines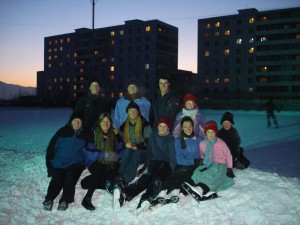 of Godly men to allow them to make an impact in this world. It was then that the word martyr took on new meaning. It comes from the Greek word martus which means a witness who is willing to die for what he testifies. I realized that I may not have to give my life by death, but of even greater sacrifice would be to die to my own desires daily and live my life, not for myself, but for Christ and the advancement of His Kingdom. It is for this that I have dedicated my life.
The next two years of working in Mongolia went quickly, especially because we came back to the States several times to visit. God was so merciful to pour out His grace during that season and even though it was one of the most difficult in my life, it was one that I look back on it with gratefulness to God for the lessons He taught.­­­
Thumpety-Thump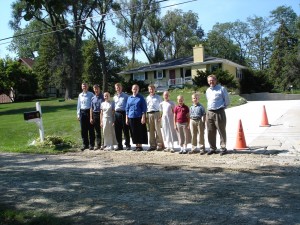 Upon arriving in the States from Mongolia July 11, 2007, there were many transitions. In fact, I think we all would say we felt more culture shock coming back to the States than going over to Mongolia, just because we were not expecting any adjustment. Arriving at the Chicago O-Hare airport we were welcomed back by friends at a local ministry which welcomed our family to stay at a vacant house. We were delighted and overwhelmed to find the house with a huge welcome basket full of things many of us had not seen since we had left for Mongolia such as dill pickles, "normal" milk and cheese, etc. All were very tired after traveling for nearly 28 hours without resting, so we quickly fell asleep. I remember awaking to hearing a strange noise upstairs: "thumpety-thump." Sitting up straight in bed I looked at the clock. It was 2am. Upon going upstairs I saw my younger siblings alive with excitement doing summersaults in the living room and sneaking little bits of "real food." We then discovered the affects Jetleg.
In all actuality, it was the first time we really had a chance to take a breath and refocus. Sure enough, that was about all the time we had because my Dad soon began work at the engineering firm downtown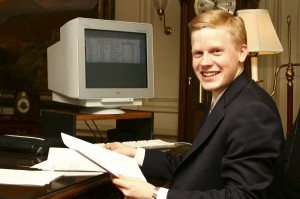 Chicago where he had worked for twelve years back in the nineties. The ministry we were staying at soon asked each of the older children if we could volunteer working in various capacities. It was a joy to be working at a ministry where the young people love the Lord and want to serve Him with all the strength God gives.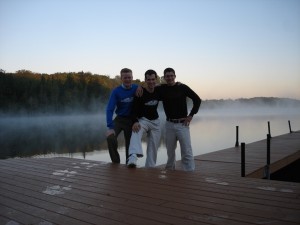 One such aspect of the ministry is a ten-day experience called Journey to the Heart. Young people from all across the United States and world have come at various times to seek the Lord. They are divided into teams of ten young people on a team. One experienced young person will accompany this team as their leader going through a specially designed curriculum with them. This curriculum allows them to take a Journey to their own heart and see areas that need changing. Then take a journey to God's heart to see what their heart could and should be towards the people around them.
My Heart Skips a Beat
In September 2007, two sisters came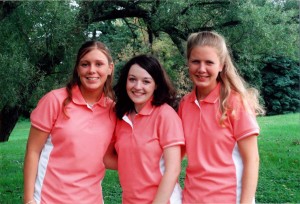 on a Journey to the Heart. Priscilla and Anna Keller came just before Anna would meet and get to know Josh Duggar. Though I was there at this time I do not distinctly remember meeting her until Priscilla came back in March 2008 with her younger sister Susanna. It was then I remember coming down to the kitchen to get some further ideas on a project I was working on. These two sisters were serving side-by-side and enjoying themselves. Susanna, being her normal self was teasing Priscilla and when I saw Priscilla's beautiful response of love, my heart skipped a beat.
Knowing that this was not the time for me to pursue a relationship being that I was in no way ready for this responsibility, I brought this attraction to the Lord asking Him for wisdom. I knew what I must do. I needed to learn to love God with all my heart, soul, mind and strength, so He would be then able to love others through me. I also knew that I had much I desired to learn and do for the Lord and His Kingdom before pursuing marriage. Thus, I began to picture myself as a Marine for the Lord willingly embracing disciplines for the cause of Christ. I figured, if they can go through incredibly challenging, painful, and rigorous training to serve our nation, why was I not willingly embracing disciplines of such nature in my desire to serve the Lord.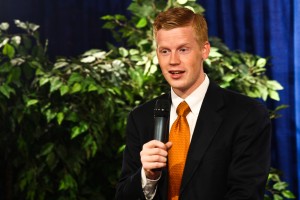 Over the next several years, there were opportunities for me to have my endurance stretched, my spiritual muscle tested, and my faith tried. There were many times I would work late in the evening and resume work early in the morning for weeks straight. However, I did enjoy having a very full schedule especially as I saw much spiritual fruit from my work. I had fun helping organize conferences, plan schedules, work on logistics for all sorts of staff functions, sharing testimonies at different conferences, or even doing some personal counseling. I loved every bit of it. One of my mottos was from Hudson Taylor, one of my heroes: "It does not matter how great the pressure is, it only matters where the pressure lies. See that it never comes between you and the Savior, but only presses you closer to His breast."
A New Chapter Begins
Though the years flew by, the persistent tug on my heart did not. My parents had encouraged me to write a daily journal. As I read my Bible devotions each morning off my smart phone I would often simply copy a verse down and make a few comments on it in a draft in the morning and add additional thoughts or challenges as the day progressed. Though I sent this to my parents every day, it was really a journal between me and the Lord and I would share very candidly the struggles of my heart with Him. Thus, throughout this time, I was able to keep some form of communication with my parents even though they would rarely see me unless it was Sunday.
My race against time continued: "How much can I get done between now and the time I die." Realizing that my brother only served the Lord until he passed away at twenty-five, I made a commitment to stay single to serve the Lord until my twenty-fifth birthday to minimize my distraction and maximize my ability to serve the Lord in my single years.
In the Fall of 2010 my family again left for overseas ministry. This time, they went to South Korea to do some ministry while I remained in the States to continue serving in ministry. I found a cheap flight traveling through Europe to South Korea for the Christmas Holiday, so Derrick and I joined our family for this special time.
One Saturday morning before going out to join the younger Wallers on the soccer field for some exercise, my parents and I had a good talk. They mentioned that they had been noticing some things in my journals regarding an attraction that I had toward Priscilla Keller. I affirmed that though she had many qualities, I would not feel free to pursue a relationship with her until my birthday later that year.
Chicken?!!!
On July 11, 2011, my family returned from South Korea after also having a three month visit in Mongolia. Upon their arrival we had a family reunion up near our family farm in Wisconsin. Upon returning to Chicago, my parents asked if I would go out with them to run some errands so we could talk. We picked up groceries and then headed to a favorite local restaurant.
We picked a quiet booth and settled in for some good conversation. My parents asked me what my goals were for the next year to five years, etc. I knew where they were going with this. I told them that I was kind of in an interesting situation in that I had just worked through some problems at the ministry where I was serving that put a bad wrap on a single guy pursuing a single girl on the ministry campus. I mentioned that though I was confident Priscilla was the only one I could picture ever pursuing in marriage, I also was fine to wait until I was older. I casually mentioned that since Dad did not get married until he was twenty-eight, maybe I should also wait till I turned twenty-eight. Then, if she was still available, then I knew she was the one. My mom, being a very candid communicator, exclaimed, "Chicken! If God has placed all these confirmations in front of you, maybe you should move forward in the light He has given you." Deep down in my spirit, I knew this was right.
My parents and I talked about the qualities that I saw in her that really attracted me to her such as her passion to win souls for Christ and minister to people, her sensitive spirit toward the Lord, and her willingness to stand alone for her convictions. My parents asked me many questions about her family, which I could not answer because I had purposely tried to not show any special attention to her distracting both me and her before either of us were really ready or had freedom to move forward. I told mom and dad that I would wait until my twenty-fifth birthday to take any steps, but I would definitely keep them informed on what was going on in my heart and life.
Anticipation Builds
The time leading up to my twenty-fifth birthday was filled with activity. In fact, there were three back-to-back retreats being held in the Northwoods of Michigan in which both Priscilla and I were involved. During this time, I just sensed an incredible peace about moving forward. Many of the messages that different speakers gave just resonated in my spirit. Even a song at the beginning of a session seemed to echo in my heart: "trust and obey—Do what God is telling you to do."
Finally, after talking to each of my older siblings and my sister Sarah who had worked closely with her, I proceeded to make the big call. I texted my friend Josh Duggar asking if he would have a moment for a phone call. I did legitimately have a business reason to talk with him, but I also knew that he would have the phone number for Priscilla's father and would be familiar with his schedule and availability. He texted me back saying he would call soon. I anxiously waited that Monday evening. Still hearing nothing, I proceeded to go over to sing at a local nursing home with some of the staff. Midway through the second song, I got the call. Stepping out, I answered the phone call and began to speak only to have the connection break up. So I called him right back not realizing that at the time he and his whole family were in Israel together and it was costing over two dollars a minute. However, I quickly explained that I had a question about a van we had purchased from him and also a personal question. I asked if I was catching him in a good place where he could talk. He affirmed and so I mentioned that the personal reason was regarding an interest I had in Priscilla Keller. He quickly and excitedly told me how glad he was to hear from me and that he would like to call me back "in just a minute" due to the costs. I totally understood and agreed to await his call. Those next minutes seemed like eternity.
Josh did call back from Israel and due to jetlag, he and Anna were wide awake and we enjoyed a very nice conversation as he was in his hotel overlooking the Sea of Galilee. Just as we were about to hang up, I quickly remembered the practical reason for calling–Mr. Keller's phone number. He thankfully supplied this mentioning, "This would be a good time to catch him as he should be just getting out of prison." I must admit, the comment took me slightly off guard, but then I remembered that Mr. and Mrs. Keller have been in and out of prison since they started that ministry back in 1992. They founded Freedom in Truth Ministries and have authored numerous books which they freely give to thousands of prisoners every year.
The Big Call
The big call went totally different than I ever would have dreamed. It was quite funny looking back on it. The dialogue went something like this: "Ring, ring, ring, Hello, this is missionary Mike Keller! Hello, this is David Waller calling from Headquarters! Well, David, I was just talking to Dr. Paine about all the things God is doing in Peru especially with the outreach in the hospitals and I was so excited to share with him about a way God has designed apricot pits to build the immune system and fight cancer cells…" for the next twenty minutes he excitedly told me about the new studies coming out on this topic. I must admit, my mind was not tracking as closely as it could have been.
Finally, after what seemed like an eternity, he asked, "So David, what has God been doing in your life?" For the next forty minutes we had a very sweet time of sharing how God had been leading and guiding. To my joy, he was very open and excited. After a while, he stopped me and just said, "David, I really feel like God is the One working in your life to give you these desires toward Priscilla. I have only two questions for you: Are you willing to trust God with the size of your family and second, are you willing to be accountable to Priscilla for your Internet use." Knowing his heart to protect his daughter and already having commitments in these areas, I was thrilled to respond with a resounding "Yes." He said, "I really believe you are the right one for Priscilla, but she has the ultimate say in this decision. But I am almost sure she will be interested in seeking the Lord about this with you." Little did I know how God was already working in her heart towards me and that she had been sharing this with her parents, but not knowing where I was at, she simply had to trust the Lord and wait on His timing.
Mr. Keller went on to say, "I will talk with Priscilla and give you an answer from her within three days. However, if she says 'Yes' let me tell you up front that I have just one simple project for you to do before you become engaged to her. I want you to memorize Romans 10, Isaiah 58, and Luke 15 and quote them to your dad. Th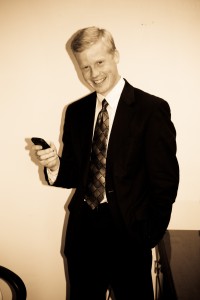 ey are some precious chapter of Scripture which I want you to enjoy." We ended the conversation with prayer and I felt as though I was either in shock or dreaming.
The next morning, I awoke with new energy and excitement. With much responsibility at work, I honestly did not have time to mull over my nervous thoughts, but every few minutes I would breathe a prayer. Finally, I looked at my watch and saw I was already very late for lunch. I then glanced at my cell phone and discovered that I had missed a call from Mr. Keller. I could not believe I would have missed it. However, I was relieved when I listened to the message which had a vague but positive tone. Mr. Keller requested to talk with me. I knew, however, I was responsible to be in a meeting immediately after lunch, so I reluctantly put aside my phone, grabbed a plate of food to stare at while I pondered what the message might mean. Before we even got much into the meeting my phone was ringing. Well, I thought, at least I made a fair effort to be there for the meeting. Glancing down, I sighed with relief as I saw it was Mr. Keller. I quietly slipped out the meeting.
Jumping in a minivan and buzzing down the road to gain a little privacy, I then heard the joyful news that Priscilla had taken time to prayerfully consider and had decided that she would be willing to begin a journey with me to discern God's will regarding marriage. We were given full blessing by her parents and mine to begin our courtship on September 20, 2011.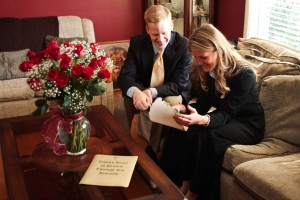 Our first time together was a memorable and joyous one, but also filled with nervousness. We were both super excited and really desiring God's blessing in every area. We sat down and started from the beginning sharing our stories of how we gave our lives to Jesus, how we grew in our walk with the Lord, and especially how God was leading me to pursue a relationship with Priscilla.
Having never dated any girls except my mom and sisters, it was super special to go out to a few restaurants during this time and share in many special memories. It was also a very meaningful time to hear of Priscilla's heart desires, dreams, goals, and also some of her concerns and fears. This sharing united our hearts at a much deeper level than I have ever known in any relationship and has been one of the best things that has ever happened in my walk with the Lord.
On November 10, 2011 I flew down to visit Priscilla and her family in Florida. Josh and Anna Duggar and their two precious children also stopped in for a visit and we enjoyed many special times together as a larger family. Normal work projects became special events such as driving a van purchased at an auction up from Orlando or playing doubles as two couples on the Tennis Court they have in their back yard.
Each for the Other, and Both for the Lord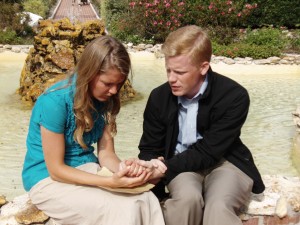 On November 16, my parents wedding anniversary, I had everything set. Just as planned Mr. Keller drove the family out to a special gardens area for a nice walk. As we drove I wanted to read some Scripture with Priscilla. We enjoyed reading through several Psalms and then upon getting half-way through the Proverb I realized we had arrived. Conveniently I mentioned to the family that if it was okay, Priscilla and I would find a place to sit down for a minute and finish reading and sharing while the rest enjoyed a walk. I told them we would catch up with them "shortly."
After finishing reading, I told Priscilla that I had gotten very little sleep that night because I had something on my heart to share with her. I proceed to share from memory and in my own words the contents of a letter I had penned. I then pulled the carefully prepared burned edge parchment from my shirt. Placing it in her hands I dropped to one knee and began to read the lines slowly to her. The last paragraph of the letter was a question: "Would you join me in following Christ to be my wife, best friend, and faithful prayer warrior; to live together, travel together, serve together, and if need be die for the cause of Christ? Will you marry me?" To my delight, I saw her beaming face as her lips began to move. Wiping a little tear of excitement from my eyes, they met hers as she replied, "I would be honored!"
It was then that I drew a small box from my pocket and explained that I had a little gift for her which had much meaning and significance. I told her: "There are many people who are beautiful, but you not only are beautiful outwardly, but you focused on the beauty from within, even the ornament of a meek and quiet spirit which is in God's sight of great price. Outward beauty fades, but the inward purity that radiates from your spirit shines timelessly. There are many who flaunt their beauty, but as you look past all the exteriors there are deep hurts that they have allowed to fester and grow. "Many daughters have done virtuously, but thou excellest them all. Favor is deceitful, and beauty is vain: but a woman that feareth the LORD, she shall be praised." (Proverbs 31:29-30)."
It was then I turned to a few lines I had penned that morning:
Priscilla, priced far above any ruby
Has focused on her inward beauty
Her patience, forgiveness and love
Causes my soul to soar like a dove The diamond I am giving to you
Is a token of God's love so true
The outside beauty can flex and change
But internally flawless character shines
Far above and beyond any range
Making a deep impact in all times It is not the big, flashy and gleaming,
But the purest, colorless beaming
Sincere, meek, and joyous you are
Exceeding the value of rubies by far The diamond is small and yet of purest form
Reflecting your character that weathers the storm
Thank you for focusing on Eternity
It is reflected by your inward purity
I look forward to spending my life with you
And I know that God will richly reward this too May God richly bless this day
And now I can freely say,
I love you from the bottom of my heart
And soon we will see it in full, not in part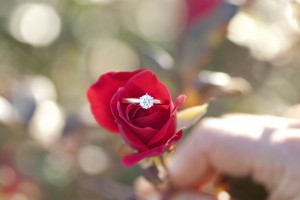 As I took her hand for the first time, I carefully slipped the ring on her finger. With clasped hands, we both slipped to our knees thanking God for the beautiful relationship of love that He had so deepened in our hearts and dedicated ourselves a new and a fresh to His will. When we got up from our knees I realized that the family had been "gone" for nearly two hours and were all standing around us with big smiles. I looked into the eyes of my dearest friend and wife-to-be and rejoiced at all God had done.
These last four months have been the best in my life and ones that have drawn me close to the Lord. I have learned so much about God's love for me and I am understanding more fully why Christ used the picture of marriage as a way of describing his relationship with His Bride the Church.
As we have been miles apart our hearts are closer now than I have known with anyone. Each evening as we talk and pray I realize just how blessed I am to have a wife-to-be that loves to spend time with the Lord and has a longing to be close by His side. All the time that we have spent growing closer to the Lord has really just drawn us closer to each other.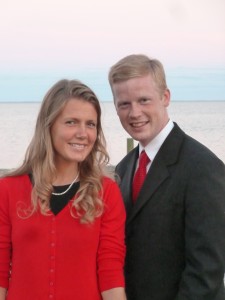 As I am preparing a place for my bride to come, I have thought several times of the words of our Lord, "I go to prepare a place for you. And if I go and prepare a place for you, I will come again, and receive you unto myself; that where I am, there ye may be also" (John 14:2-3).
We are looking forward to sharing the rest of our lives together, each for the other and both for the Lord. It is our prayer that God would use us to advance His Kingdom and we would be most grateful for your prayers. May God bless you!