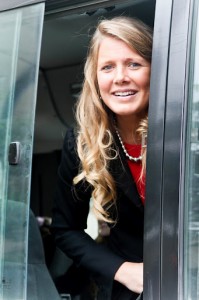 My dad became a Christian at the age of nineteen. God truly redeemed my dad's life from sin and gave him a tremendous freedom from the past. He was able to come to so much freedom after he attended a Seminar in Basic Youth Conflicts.
My mother grew up in Miami, Florida where she faithfully road the church bus to church on Sundays. She was gloriously saved when she was nine years of age.
I praise the Lord for bringing my parents together and for their obedience to trust the Lord with the size of their family. My dad was a welder/fabricator by trade and my mother taught in a Christian school until they had their first child. God led them to home educate their children in the Advanced Training Institute homeschooling program. Through this curriculum, we were able to keep our focus on God's Word, God's ways, and God's character.
I was born on July 3rd, in South Florida into a vibrant Christian family with high morals. I am grateful to have three brothers and four sisters. My birth order is fourth of eight children. When I was ten years, old the Holy Spirit began convicting me of my sin and my need of salvation. I talked with my parents and my dad showed me the steps to receive Jesus as my personal Lord and Savior:
1. Realize that I was a sinner and had broken God's Holy Laws.
2. Realize that Jesus Christ died on the cross taking the punishments for my sin.
3. From my heart, I needed to repent, turn from my wrong ways and go God's ways.
I wept as I surrendered my life to Jesus Christ, asking Him to be my Lord and Savior. At that point, joy and peace came into my life and I have never been the same since. Seeing all that the Lord Jesus had done for me, I desired to give my life fully to Him. I began to serve the Lord by teaching in our church Sunday school, helping my mom in Junior Church, giving out tracts, and sharing the Gospel.
The Beginning of Our Family Ministry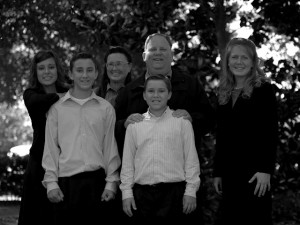 In 1994, my dad got called for jury duty. While in the juvenile court, he immediately saw the great need for Christ in the lives of those in trouble with the law. He started volunteering at a local juvenile detention center and his heart was instantly burdened for the juveniles. In 1996, my dad made the decision to leave his job to work as a full-time missionary to the incarcerated. My parents and our family spent months traveling from church to church on deputation. We would inform the believers of the needs in the prisons and often quote the chapters of Scripture that we had been memorizing. God blessed these times and many faithful supporters offered prayer and even financial assistance to support my dad as a full-time missionary. Working in juvenile detention centers, county jails, and state correctional facilities, we began to see God working in the hearts of those who are incarcerated.
When I was a teenager, I was able to go with my dad to a juvenile detention center where my dad would preach to the boys, and I had the opportunity to teach a Bible study for the girls. It was a joy to learn how to help hurting girls come to true salvation and teach them how to become free from past sin and bitterness. Helping young people gain freedom from past failures gave me a great sense of joy and purpose in my life. I was able to see firsthand how the truth of God's Word sets people free. Scripture states, "Ye shall know the truth, and the truth shall make you free" (John 8:32).
While sharing with the young people, I learned a very important lesson. Life is a race—it is so short! Ten out of ten people die and on every tombstone there are two dates: the day you were born and the day you die. Between the two dates is a little dash which is like our life—so short! I decided that I wanted to give my "dash" (life) to Jesus and faithfully serve Him with all my heart, soul, mind, and strength.
The Beginning of a New Chapter
A new chapter opened when my sister Anna and I went on a Journey to the Heart in September 2007. During this Journey, the Lord gave me freedom from past hurts and a deeper relationship with Him. My love for the Lord and enjoyment of spending time with Him in His Word and in prayer was greatly deepened through these ten days.
The benefits that I received were so valuable that I wanted to help others experience what I enjoyed. I have had the joy of leading several Journey to the Heart teams over the last three years and God has given me the privilege of helping train younger girls to have a vibrant walk with the Lord. They have found freedom from things that once hindered their walk with the Lord. The Lord has also given many opportunities to serve Him in Romania, Mexico, Singapore, Malaysia, and three times in Peru.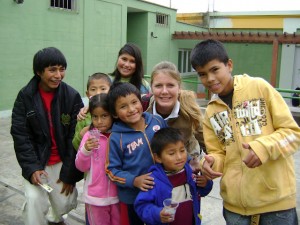 A prayer by Betty Stam has challenged my life: "Lord, I give up my own plans and purposes, all my own desires, hopes, and ambitions, and I accept Thy will for my life. I give up myself, my life, my all, utterly to Thee, to be Thine forever. I hand over to Thy keeping all of my friendships; all the people whom I love are to take second place in my heart. Fill me now and seal me with Thy Spirit. Work out Thy whole will in my life at any cost, for me to live is Christ. Amen."
The following passage has been a blessing to me, especially as I realize that the Lord is the Portion of my life. He is the One who fills my cup full to overflowing. God is truly good to them that wait for Him: "The LORD is my portion, saith my soul; therefore will I hope in him. The LORD is good unto them that wait for him, to the soul that seeketh him" (Lamentations 3:24-25).
Journey to the Heart is hosted by the IBLP (Institute in Basic Life Principles) and though most of the time is spent in the Northwoods of Michigan, the beginning sessions take place at the IBLP Headquarters in Chicago. Between hosting Journey groups, I had the privilege to serve at the IBLP Headquarters in the Journey to the Heart office or wherever I found the need most pressing. It was there I first noticed David Waller. I admired his heart for the Lord, dedication to serve the Lord, and the way he invested in others. Deep in my heart, I desired and prayed for a husband with these characteristics. However, I did not know what the future held or even what was God's will, and I also knew that the ball was not in my court. Thus, I prayed for David, asking the Lord to continue to use him in a mighty way. I prayed that he would not be distracted from serving the Lord, but would go far for the Lord and be all God wanted him to be.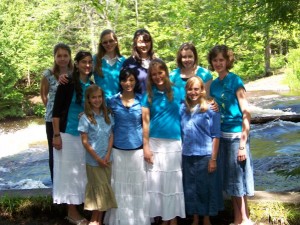 Over the years I openly shared my heart struggles with my parents. Their understanding and prayers for me were such a blessing and gave me increased freedom to serve the Lord.
A New Chapter Begins
On September 12th, 2011, I received a phone call from my Dad while I was still up in the Northwoods serving on a Mother's Journey. He asked me: "Priscilla, What has been the desire of your heart?" My first thought was, "Starting a courtship with David Waller," but I could not verbalize it until my dad explained, "I just had the best talk with David Waller and the Lord has been working in his heart. He is asking to begin a courtship with you." I was overwhelmed with God's goodness. I did not get much sleep that night, but the next morning I was able to spend much time with the Lord.
The next day, I was able to spend the entire morning with the Lord and the Lord prompted me to read the book of Ruth. One of the passages that the Lord gave to me was: "For whither thou goest, I will go; and where thou lodgest, I will lodge: thy people shall be my people… the LORD do so to me, and more also, if ought but death part thee and me" (Ruth 1:16-17).
This was especially significant because I did not know where God was calling David and it was really important to me that I also trust God with this. I knew that David wanted to serve the Lord and I desired to give all that I had in service for the Lord.
Later that week, while still up in the Northwoods, I took the mothers out to Lake Superior to the Black River Harbor. I was praying a lot while standing on the shore of the bay. The water was just flowing through the harbor into Lake Superior and the Lord seemed to say, "I have opened this door and I just want you to go through it." The Lord gave me so much peace that day. This was especially important because I felt like David did not know me at all, and I really did not know David, but I felt total peace that I should just walk through the door that He had given me to begin a courtship with the goal of discerning whether David was the one for me and if I was the one for him. God's peace flooded my soul as I realized He was the one who had opened this door and He would be the one to lead me as I walked through the door.
A few days later, I realized that my run around the lake may have been my last as a single young lady. Strangely, as I ran, I did not sense or feel emotions of the Lord's presence as I had so often felt in times before. As I came to my special rock half way around the lake, I was praying for David and for my family, but I did not understand why there was no emotion. I hardly sensed God's presence at all. It seemed especially odd because I had so looked forward to this last time around the lake before traveling back to Chicago and beginning a courtship relationship with David.
I cried out to the Lord as I headed back to the lodge: "Lord, I know that love is not an emotion! Please show me what you are doing." Jogging down the road, the Lord reminded me of the road He trod to Calvary. That was certainly not a road of emotion. He prayed three times that, if it was possible, to have this cup pass from Him. However, God so loved the world that He sent His only son to lay down His life for us. True, sincere love is not an emotion, but it is laying down your life. I needed to lay down my life, my plans, my future, my all so that together, we could go farther for God.
My dad gave me his full blessing to begin getting to know David with the purpose of discerning God's direction. The night I returned from the Northwoods, David and I had a wonderful four hour talk sharing our life stories.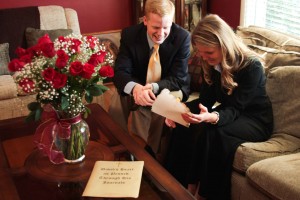 On Tuesday, September 20th, I walked into Robert and Kendalyn's house and saw David standing there with twenty-four roses. My heart raced and my emotions soared. "Can this really be real?" He motioned for me to sit down on the couch and handed me a burned edged parchment with a hand-written letter requesting permission to begin a courtship with me with the purpose of marriage. When I read the word "marriage," my heart leaped. David also gave me a journal which had mentioned my name as one he admired. As I began reading, I felt like I was holding his heart in my hands. His humility and transparency was a great confirmation that we could be open and accountable with each other in the future.
I gladly accepted the courtship relationship. After all the years of guarding my heart, I was finally free to share openly of my deep feelings and emotions and allow David to win my heart. The freedom and peace we experienced from the very beginning was overwhelming.
The next few weeks flew by as we took each possible opportunity to talk between our two busy schedules. One of my favorite times with David was the times we shared in fervent prayer for our personal needs and the needs of those around us. It has been special to see how God has been answering our prayers. Something that I had been asking the Lord for was someone I could pray with. Seeing the verse about how the unhindered love between a husband and wife allows for powerful prayer, I desired it in my life. (See I Peter 3:7.) God allowed us to experience a foretaste of this delightful aspect of coming together first in our spirit.
David then came to Florida. It happened to be during the same time that Josh and Anna were also visiting. This gave many opportunities to get to know David outside of the regular work and ministry opportunities. We took many fun family outings, such as a visit to Saint Augustine, FL.
On November 16th, we were busy making pancakes and packing up the van for a special outing to the Ravine Gardens where our family often goes to enjoy a lunch in the park. Before we left, David called his parents and wished them a happy Anniversary. This gave me a big clue that something was up, especially since he could barely eat, was nervous and had not gotten much sleep. In fact, he only ate two pancakes. I offered him more and he surprisingly declined. Anyone who knows David or has seen him eat would know something was very different about this morning.
We finally made it to the park and I wanted to walk the two mile hike as we would normally did, but David wanted to sit by the fountain and finish reading the morning devotion we had previously started. That is when I thought, "Ooo, it is happening." David knelt on one knee and shared how God was leading in his life to bring us together.. As he read me another special letter with burned edges, he took a deep breath and said, "Priscilla, I love you," and asked me to be his wife. I told him, "It would be an honor for me to be your wife." David pulled out a box and opened it, revealing the most beautiful diamond I had ever seen. I gazed at its beauty as it glistened in the sunlight. David had done such a good job picking it! We committed this new phase of life to the Lord and then he removed it from the box, took my hand, and slipped it on my finger. This was the first time we had held hands. It was so exciting! I never knew it could be so special to hold hands with someone with whom you had shared your whole heart.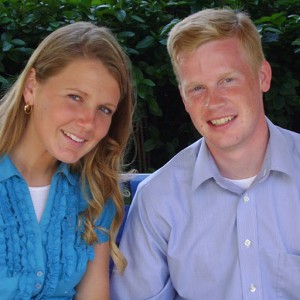 When we arrived back home, David shared his desires with me and my father about the timing of our wedding and his desire to go to the Philippines for our honeymoon. I was overwhelmed by his love and generosity and also the fact that he was planning to take five weeks off of work to prepare for the wedding and go on the honeymoon.
God really brought everything together. Many of our friends and family pitched in and were very generous arranging flowers, baking the cake, decorating, helping to print invitations and programs, practicing music, cooking, counseling, and dear friends who kindly hosted us at the beautiful Buford Grove Baptist Church. This truly was a fun experience seeing God as our Jehovah Jireh in providing for all of our needs exceedingly abundant above all we could ask or think. The wedding was special as we met friends and relatives from around the world.
God gave David and I this verse: "Gather my saints together unto me; those that have made a covenant with me by sacrifice" (Psalm 50:5). God truly did bring together a host of people who came to celebrate and witness our marriage covenant, both in person and through live streaming.