Once again, this post is long overdue, and yet sometimes things are better late than never. Thus, we will try and share a few highlights of the last few months based on the pictures that we have readily available. Since many often enjoy watching a little video of Priscilla sharing a pregnancy update, we will start with that.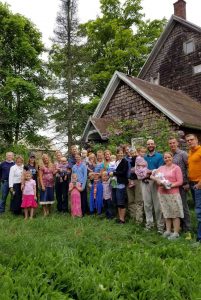 Recently, the whole Waller family was able to gather as a family in the Upper Peninsula of Michigan. Pictured above is the group photo with the whole clan of 26 of us in front of a home of David's great-grandmother.
A Stop at the Waller Family Farm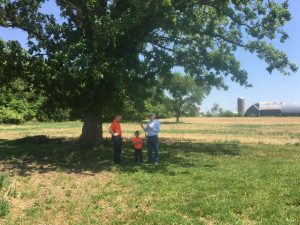 After a long road trip we stopped off at the family farm and visited for a bit. So much has changed over the years and it was a bittersweet visit knowing that David's parents are thinking of selling the farm so they can build on a different piece of property.
Grandma enjoyed taking a little time to walk with Phillip and Davia.
On to the Northwoods of Michigan
The whole Waller family was able to gather at a retreat center up in the Northwoods of Michigan and had a wonderful time getting to take time together in the beauty of God's creation.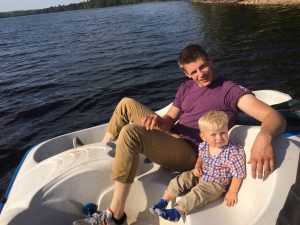 We are so grateful for the investment that so many of our children's aunts and uncles make in the lives of our children. We are very grateful and our children enjoy it immensely. I think they even get a bit spoiled, don't you?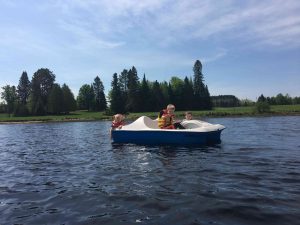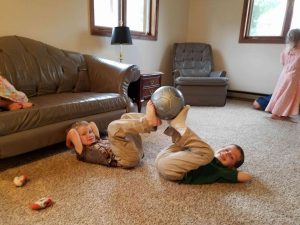 Paul and his cousin Nehemiah are close in age and did all sorts of fun things together.
Family Conference
Part of David's job is to organize the Family Conferences. One highlight of that is getting to preach to the young people who attend the conference. His message this year has been focused on the importance of developing your relationship with God so you can love Him and love other people.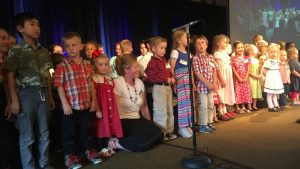 Paul and Davia are blessed to be able to participate in the children's program that runs in conjunction with the weeklong family conference. After attending this program, Davia came home and surprised us all by quoting the entire passage that the children worked on from Psalm 34:1-8. Listen to her share it with our church:

Even though we travel frequently, our children still enjoy every minute and look forward to the adventure of each trip. We are grateful to be able to do this together as a family.
Visit from Priscilla's Family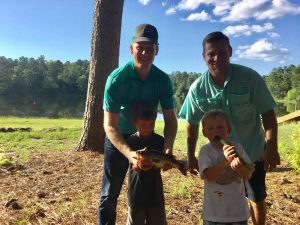 Shortly after arriving home from a long trip, Priscilla's brother Daniel came for a visit along with his son Brighton. We went to a local lake and caught some good-sized bass. Paul enjoyed seeing his cousin very nervous to hold a fish and wasted no time in pretending to put the fish in his mouth, just for effect of course.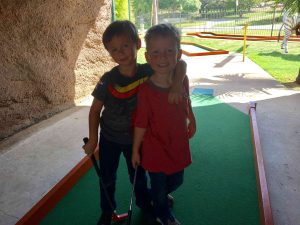 Paul and Brighten enjoyed a round of putt-putt golf. They enjoy spending time together every opportunity they get.
Swimming has been an excellent way to enjoy the outdoors while still beating the heat of Texas summers.
A New Driveway

One of the challenges with hospitality was in the rare occasion we had rain, people needed to park on the street and walk into our property so they would not get stuck getting in our out for our driveway. We had on numerous occasions slung a good bit of mud ourselves attempting to drive through the mud. Josh and Anna got their RV stuck trying to get out a few months back. While we could have gotten annual loads of gravel, we felt it was not that much more to purchase concrete, especially because we were going to be the ones to install it ourselves. Our children would get the benefit of being able to rollerskate and ride their scooter on the hard surface.

We called a few friends (and amazingly they are still our friends:-) and asked if they could give us a hand.

Paul was such a hard worker through this whole project. He did a great job helping daddy with a number of projects including carrying the hog panels that we used for rebar and pounding in the stakes for the form boards.

Happy Birthday, Priscilla!

An annual highlight for us is celebrating Priscilla's Birthday the day before the birthday of our country. What would life be like without her incredible love, graciousness and resilience. God has blessed our family so much!