To say, "time flies" is an understatement of incredible proportions! We have seen so much activity in the past few months and are so blessed with all the Lord has done in our lives. We are excited about the way the year has progressed having set some intentional goals and seeing steady progress already to reaching those goals.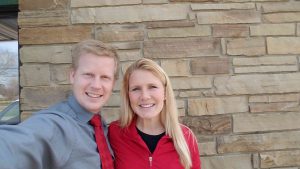 We just had the privilege of celebrating our seven year anniversary! Although, we did not have any special trip or get-away, we were able to have a nice date together and spend the afternoon and evening uninterrupted and together. Amazing to think that seven years ago I married my best friend and we are more in love with each other today than ever before.
Priscilla's Brother's Visit
We were blessed to have Priscilla's brothers, Nathan and David come for a ten day visit. They were so kind to bring a beautiful array of gifts from "grandma Keller" who is affectionately known as the "M&M grandma" for the sweet gifts including chocolate candies that she sends.
We recently acquired a second home that needs complete renovations. David was able to dig up a sewer line that had a clog and replace a section of pipe that had a root growing into it.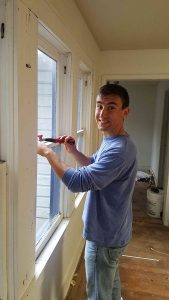 Nathan scraped many wood framed windows  and prepared them for a fresh coat of paint.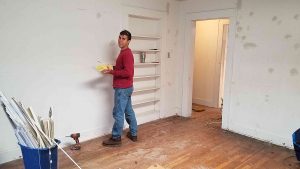 In fact, in just a matter of days, the entire interior of the home was prepped and painted.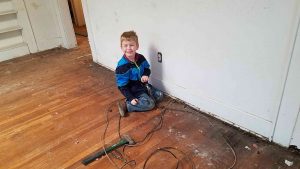 Once everything was painted, we turned to the flooring. Paul took up a large amount of the carpet tack strip by himself. It is amazing how much a young man can do with a hammer and a flatbar now that he has learned how to use it.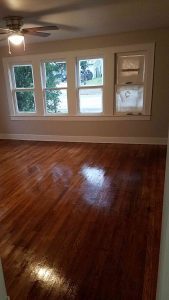 The finished product looks amazing. After a thorough sanding and three coats of polyurethane, the floors came out well. We were all amazed at how smooth things went to completely resurface everything in the house except the kitchen and bathroom in a matter of days.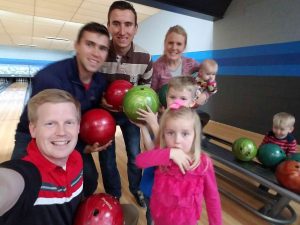 Of course, we also took a little time to celebrate by taking the guys to go bowling.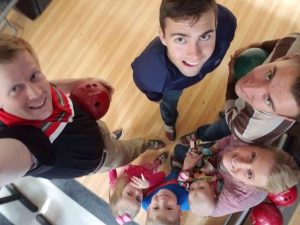 Traveling to California
Recently, we were honored to be asked to come out to Sacramento California to speak at a church for a weekend.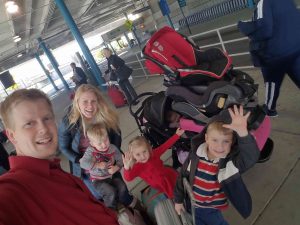 The travel out was an adventure. We always love adventure. We were able to get some inexpensive tickets so all six of us were able to fly from Dallas into San Francisco and then drive up to Sacramento. It was a wonderful time.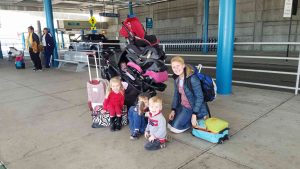 We did get some interesting looks as we walked away from the checked baggage area with a stack of four carseats and all of our carry on luggage.
Speaking at Second Slavic Baptist Church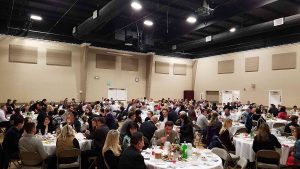 The evening we arrived a special banquet had been prepared for couples.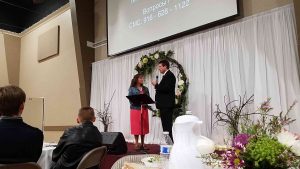 Jim Bob and Michelle Duggar were able to share their testimony and touch many of those present.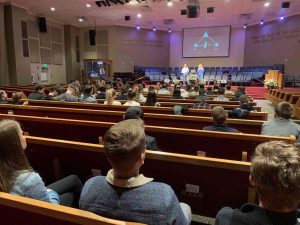 The following day, we did a seminar with Jim and Michelle sharing with the young people twelve and up on the importance of trusting God to bring the right life partner.
David was able to share in two of the church services with the Duggars sharing in the main service. Our children were so precious to quote some Scripture for one of the groups.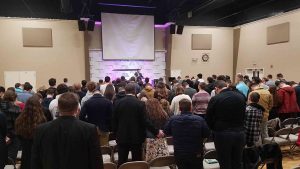 Extra Day of Fun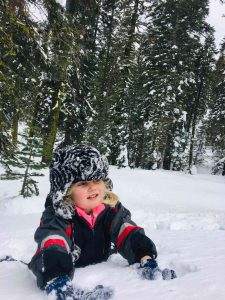 When David initially booked the travel we accidentally booked an extra day in California. A very kind family from church allowed us to use their four wheel drive pick up truck to go up the mountain near lake Tahoe and experience snow like never before.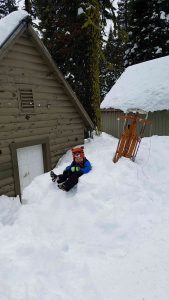 There was even a cabin from their church camp that they allowed us to use as a warming house.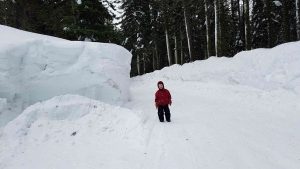 Paul could not seem to get enough of it.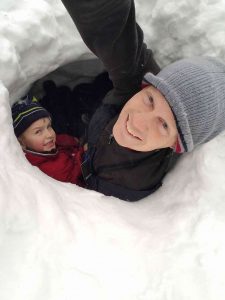 David dug out a snow fort that was big enough for two people.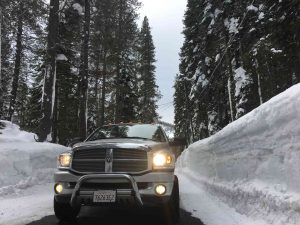 When the church folks insisted that we take a 4X4 pick up, I thought they were being a little extra cautious. However, once we arrived up in the mountainous area we were glad for the extra features.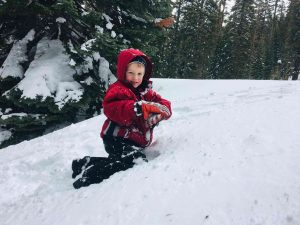 We all built memories that we will not soon forget. The hospitality we enjoyed was truly precious. We look forward to returning to visit the same church July 2-5, 2019 for our annual Family Conference.