Since the very beginning of our marriage, travel has been a significant part of our lives while in ministry. We count it a great privilege knowing that not everyone gets to travel and few are able to travel as much as we do. We praise the Lord for the many miles that we have driven over the past many years and for the tremendous safety that God has given us.  Here are a few highlights of our time over the past few weeks in which we have traveled around 5,500 miles.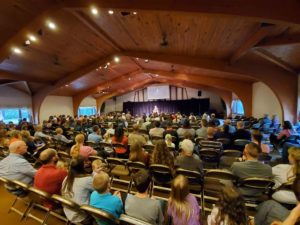 The last Conference of the year for us to organize and conduct was the Northwoods Family Conference hosted in Watersmeet, MI. Many families were able to come to this beautiful scenic location and hear powerful preaching, enjoy rich fellowship with other believers, and listen to life-changing testimonies from others who are on a similar journey.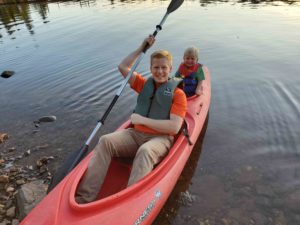 On one of the afternoons, David took Phillip out for a little kayak ride on the lake.
Time With the Waller Family

David's family took time to visit with us after the conference. It was so good to see them and spend time with each other. For many years, David's parents have desired to build a home. The Lord recently opened the door for them to build a new home on a farm that they own in Minnesota. Many of the family members have enjoyed pitching in to help build their home.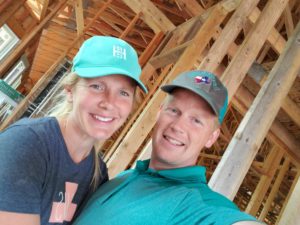 We love working together as a couple on just about any project. Often early in the morning, while the children are nicely playing together we can sneak in a little work before the day begins with the larger team of workers and the children need more guidance.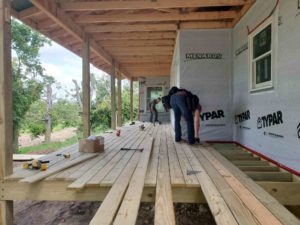 In just a few days were able to get so much accomplished including around 700 square feet of decking and more.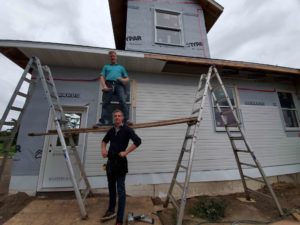 The siding went up well and then we realized we really needed to get all of the fascia and soffit done first, so we shifted our focus to that project.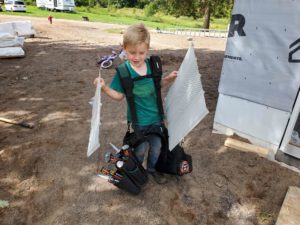 Paul is becoming a big helper and enjoyed making us smile when he came with his uncle's tool belt. The smaller pieces of soffit were perfect for him to bring from the saw to where we were hanging them as they were cut.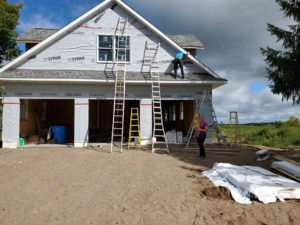 A beautiful three-car garage will add plenty of parking during the winter or extra meeting space if we call a Waller Family Reunion:-).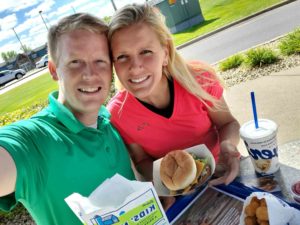 Culvers is one of our favorite date spots when we are up North. They have some amazing fried cheese curds. It is probably a good thing we do not live very close to one :-).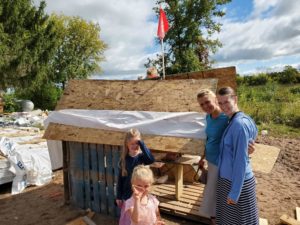 David helped the children build a little playhouse with some pallets and wood scrapes.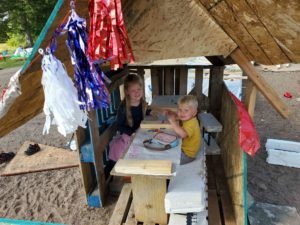 It was a fun place for the cousins to color and play together.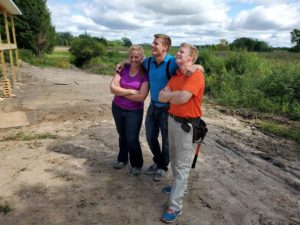 Evaluating our plan for the siding. Priscilla snapped this picture catching us taking a break red handed.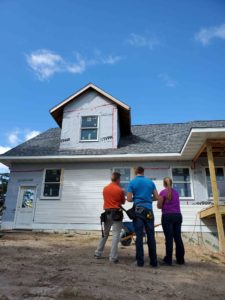 It is fun to work together on this family project where memories are made for a life-time. We are looking forward to family gatherings at this home in the many years to come.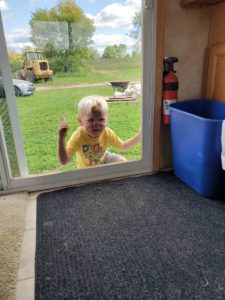 Phillip is ready for lunch. He is looking through the glass door to see if it is ready and his cute little nose pressing against the glass was too much to pass up for a picture.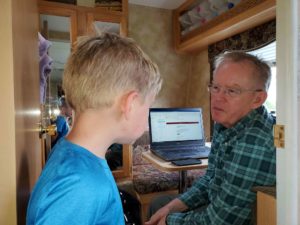 Paul is six years old and is at the stage in his life where he likes to ask a lot of questions. Grandpa Waller was very kind to answer many of his questions and explain what he does for work as an engineer. We are so grateful for Godly grandparents who invest in their grandchildren.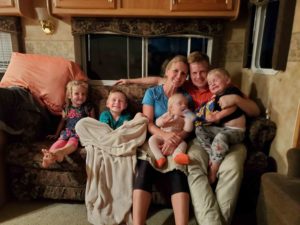 After a long hard days work we are ready for bed. Our goal is to have a time to read God's Word together as a family every evening. This is a time when many special memories are made.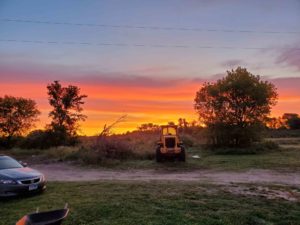 This picture of the sun rise gives good motivation to rise early and enjoy the breath-taking color.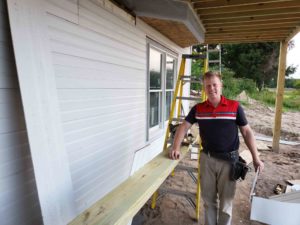 There still is much to do, but it was fun to see the steady progress being made.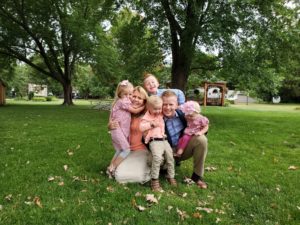 On Sunday, David celebrated his birthday. We paused for a few minutes after church to snap a picture at a nearby park.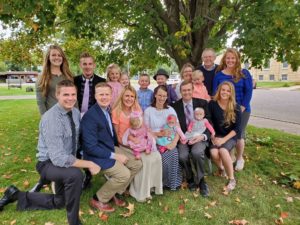 The rest of the Wallers who were present were also able to step in for a picture.
Time in Florida

A visit to Florida does not quite seem complete with out a visit to the ocean. Because of a recent hurricane, the beach was much different, but it was a real blessing to spend a morning there.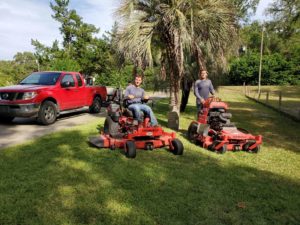 Nathan and David Keller, Priscilla's brothers started their own lawn business and have done very well serving people and their needs. David went to work with them for a few days to see what they do and spend time with them.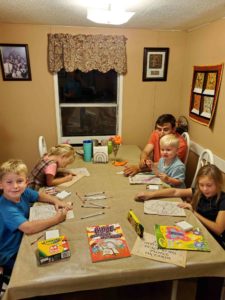 The children enjoy spending time with art projects.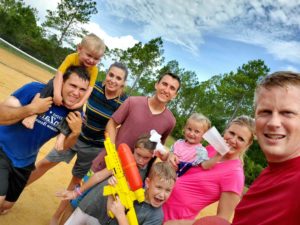 Grandma Keller furnished a few hundred water balloons and Susanna stopped and picked up some water guns and we had fun.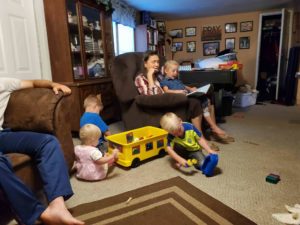 Story-time with Grandma is a special time to connect. The children do so well and enjoy taking time to read or play quietly nearby.