Immediately following our time in Sacramento we were able to spend a few days on the West Coast. Not only did we get to visit Priscilla's sister Esther and her family, but we were also able to take some time and share in a church in Portland, Oregon. The pastor graciously allowed me to share for a full hour about my family and especially highlight our ministry in Mongolia and my brother Isaac's passing. This is the first for four video clips.
Three Mindsets for Passionate Living
Amazingly, the connection with this church and pastor started when we arrived back from Mongolia. Today marks five years since we touched foot back in our home country of the United States. I had the privilege of engaging in ministry by working with several conferences with the Institute in Basic Life Principles. It was during a series of father's conferences that I had the privilege of meeting twenty Romanian pastors and church leaders. During that conference, I was asked to play my violin and share about my family.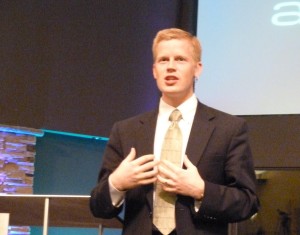 Choosing my favorite hymn, It is Well With My Soul, I walked to the podium to introduce and share about why that meant so much to my family and I, especially since Isaac had passed away. There were nearly five hundred people there and many were touched and some even in tears.
The pastor of this church had been one of those in that group. Now, nearly five years later he wrote an e-mail to his congregation explaining that Priscilla and I had married and were going to be sharing in his church. What a blessing it was to reconnect. In addition, the youth leader of another church asked if we might come and share with his youth group two days later. What a blessing it was to fellowship with these dear faithful believers in Portland.