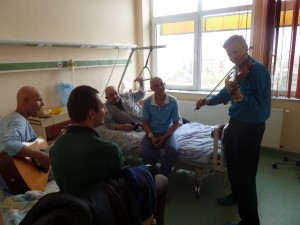 Our primary purpose in coming to Romania was to minister in the Hospital implementing a stress resolution program based on the book, How to Resolve Seven Deadly Stresses. However, God has opened many other doors as well. Working in the hospital we have had the opportunity to hear the challenges and stress of many patients and we have seen the great needs in their lives. It has been a special privilege to minister to them helping them get their needs met by following God's way of life.
In our general teaching sessions we have demonstrated to the patients and medical staff how 70% sickness and disease is either stress-induced or stress related. We then show how when stress is resolved, sickness and disease often clear up. We have had the joy of working with several patients on a personal basis which has allowed them to freely share their burdens, stresses, and the pain they are going through. We see how so many of them talk about the deep pain of past hurts far more than the pain of the present physical situations.
We praise the Lord that we are ministering in an area where there are many born-again believers who quickly recognize how they have been violating God's way of life.  They see how they can resolve their stress and then either by life or death their greatest pain is elevated which is the pain of inner tensions and interpersonal conflicts.
One man told us how he could relate to what we were sharing because he was a criminal who deserved twelve years in jail, but because his cancer was terminal, they allowed him to get medical treatment to ease his pain. He saw how God had allowed his sickness to bring him to his knees and draw him back to a close relationship with the Lord.
After our first day of ministry in the hospital, we prayed specifically that we could meet with one man that were especially burdened for. Thus, we talked as a team on how we could help him to freedom. After much prayer we decided to seek him out on our next visit. Unfortunately, we could not find him on the floor we first met him on. We decided to find the next young man on our list. We were directed up to the terminally ill floor which had primarily cancer patients. We finally found his room and discovered three of the people we were looking to talk with were all gathered in a room together. They were playing violin and guitar. It was a perfect time to speak with them.
We were able to take quite some time with them talking directly to the problems one at a time with the others listening in, which gave good background for each one to follow the steps to freedom. God directed us to speak with each one and it seemed that just as we would finish with them, they would need to go  and we would be able to address the next personally. Finally, the only man left awake in the room was the fifty-three year old man we were burdened for. We were able to clearly share key truths step by step and he was very receptive. We had tried to share the Gospel with him the previous day, but he declined receiving Christ because he said he needed to further prepare. We directly asked him what preparation he need to make. He explained that he was not able to pray on his own because he did not know what words to use. He typically heard religious things in his Hungarian language and was not sure if he should talk to God in Romanian. We at once were able to lead him phrase-by-phrase to repent of his sins and trust Christ alone for his salvation. A few minutes later he exclaimed, "I feel so light and good after you explained these things to me!"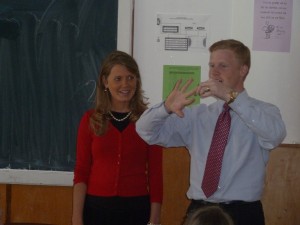 The following day, we had the privilege of visiting a school our translator had gone to when he was younger. It was a blessing to have the opportunity to go from classroom to classroom and teach all of the students in twelfth grade and half of those in eleventh grade the importance of guarding your heart as Proverbs 4:23 instructs. This tied in very well with our personal testimonies of growing up in families that feared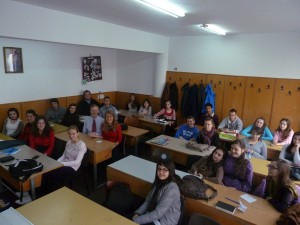 the Lord and were in ministry and the importance of choosing wise friendships especially highlighting the deceptions of dating. The Director of this Christian school had also asked us to share the Gospel so we had the joy of clearly presenting this message in each class.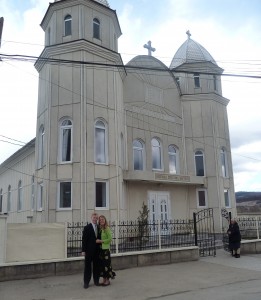 On Sunday, we took an hour and a half ride out to a little church in the country. When we arrived in the quaint community of Beznea, the rolling hills and winding streets of this little village were filled with activity as everyone seemed to be making their way to their respective churches. We arrived just in time to meet Pastor Beni in his study and have a word of prayer before proceeding into the sanctuary of this conservative Baptist church for the morning Sunday school and service.
Our translator, Ovi had taken great care in translating and preparing a handout of our notes and it was with great joy we were able to share for forty-five minutes in the Sunday School, an hour during the main service and for a few minutes with the youth after the service.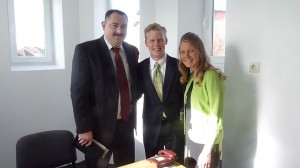 I did get a little nervous when I realized that Ovi had not printed our notes because our printer was out of toner and I had not brought my computer. It was then that I realized one of the members had been contacted and was bringing our notes. That is why it was taking a little time to get the service started. They were waiting kindly for us to get our notes. Next time, I think we will bring our own set if possible. :-).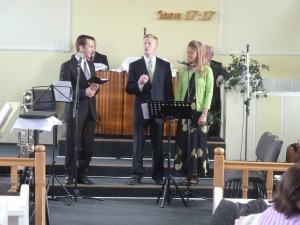 The people were so gracious and kind to listen to us as we shared the principles of Courtship as well as a message on the importance of living the Lord and being willing to die for the Lord. We also spoke on the importance of ministry as a family and how Satan loves to divide families and keep them from being effective by allowing some of their members to harbor secret sin in their life. At one point Ovi paused and said, "I think this is of God because we are having the Lord's Supper today. Can you tie this in to your message?" We then spoke about the power of one accord. God used the service in a powerful way.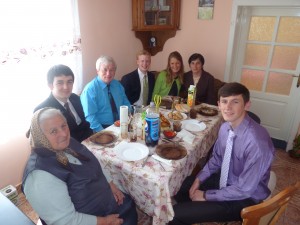 After the meetings there was time to greet each one personally. It was our joy to have some very sweet fellowship. Ovi's father, Mother, and two brothers invited us to their home to enjoy an amazing meal all grown from their family garden and farm. Then Ovi's mom brought out two huge cakes to celebrate his dad's birthday. What a special day packed with so many memories.