Every house has a story to be told. The house the Lord has blessed us with has with it a special story with each piece. May, a year ago, we moved into the beautiful home that God provided for us. However, there were many projects that had to be done before we would even consider moving in. Now a year since we have moved in we have found furnishings, decorated and completed "most" of the projects. We had so much fun looking at pictures and remembering all the things we went through to get the house to where it is now. It also represents hundreds of hours that family and friends generously gave to help us get a beautiful home debt free. I think most of them still are our friends and… family, well, I guess they will always be family ;-). Joking aside, we are so blessed! Here are some before and after shots of our home.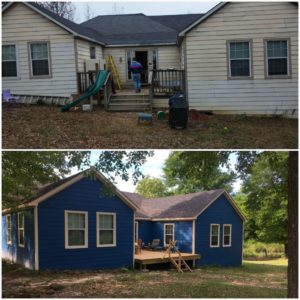 The exterior of the house has had a great facelift. From loose siding that was partially done, to a caulked and painted version, it all made a big difference not only esthetically, but also with wind and weather.
Kitchen:
When we first arrived, you could step in the front door and see the empty room with a partially tiled floor. You could also see out to the backyard through the holes in the wall. These holes had allowed birds and small animals full access to the house.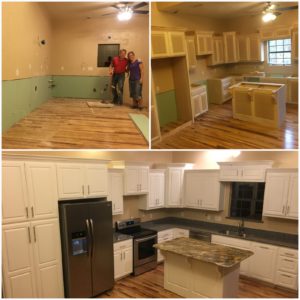 Through several phases we were blessed to see it to a beautiful custom kitchen. We did hire out the cabinet work. Pretty much everything else we did ourselves.
Foyer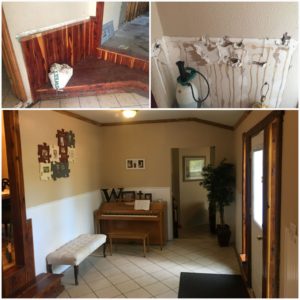 You can see that there were many holes in the sheetrock in the foyer. There was also a small bag of horse feed inside that attracted many little critters. Thankfully, it cleaned up well.
Guest Bedroom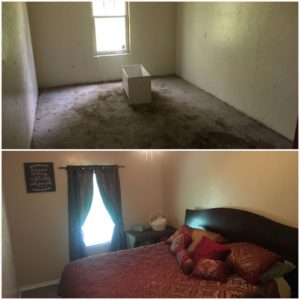 We love offering hospitality to family and friends and this bedroom has been used often.
Guest Bathroom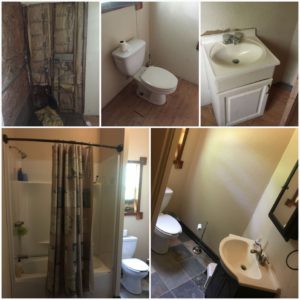 From a leaking upright shower to a fully finished bathroom with a tub, this room has been transformed. We were given the trim and it was beautiful walnut that litterally was a few inches more in length than we needed. The tub/shower was given to us brand new from a man in Florida who had been led to the Lord by my Father-in-law. The stories could go on and on about the natural slate tile, the sink, etc.
Living Room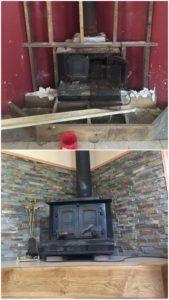 The fireplace has been a great way to not only add warmth during the winter, but the ambiance is lovely.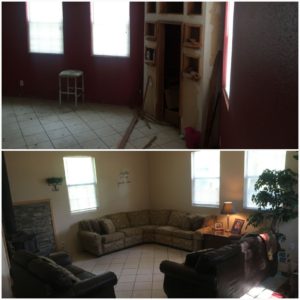 The dark maroon has been replaced with a nice tan and the corner entertainment unit was completely removed.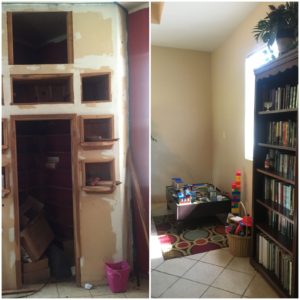 The children now have a nice play area which they love and daddy has a nice place for his books.
Master Bathroom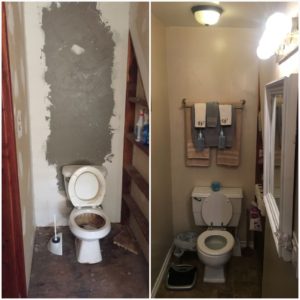 Quite the upgrade to this special room.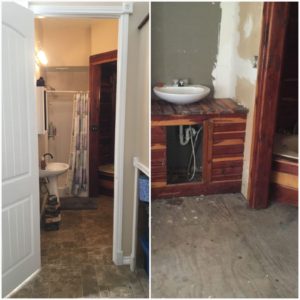 The master bathroom was huge, so we divided it into a bathroom and laundry room. The sink was removed and a shower went in it's place. We put in a wall and a door to allow a place for the new pedestal sink.
The panel board was in the bathroom as well and David's dad came and helped organize all the wiring and make sure it was installed properly. We then had just enough space for a washer and dryer.
Master Bedroom: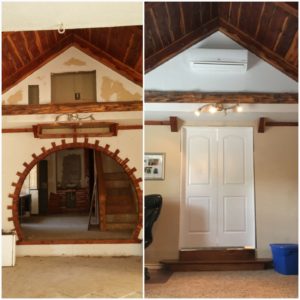 The masterbedroom was originally open to the masterbath with the large circle doorway. However the height was not sufficient for anyone taller than 5'6″ so we removed the circle and put in taller french doors.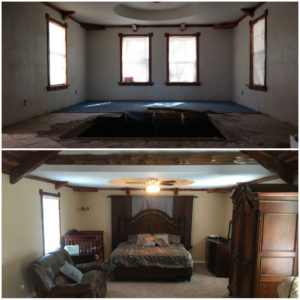 We closed in a large whole that had been cut in the floor and now we have a wonderful bedroom nursery and office all in one room.
More Pictures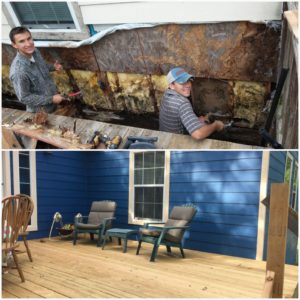 Unfortunately, when the original deck had been installed, there was no space between the boards and they were sloping toward the house, so most of the water would hit the wall and literally go into the living room. Thus, we had to take out and rebuild most of the lower section of the wall piece at a time.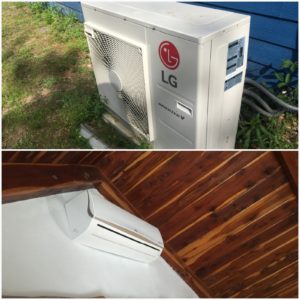 Besides the cabinets, the only other thing we hired out was the handling of the freeon for the airconditioners. The house had no central air or heat. We decided to get a very efficient multi-split unit with four zones to cool or heat the house. This took a learning curve to install ductwork for the ducted units, but worked out very well overall.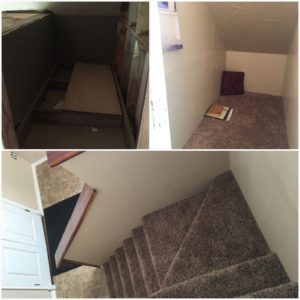 What allegedly was going to be an upstairs actually simply leads to a little closet. If you have ever seen the film, War Room, you know what this room is used for :-)- Prayer!
Storage Shed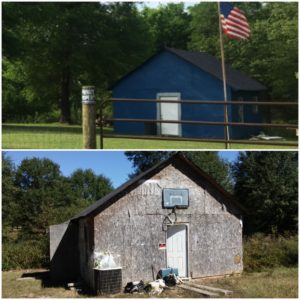 Finally, the shed has been a very helpful resource for us as we have limited storage areas inside our home. God has been so good to us and it is amazing to see how He has provided every step along the way on very limited means and income, to be able to have such a beautiful home.
Some of the resources that have been beneficial to us as we learned how to manage our finances has been the Jim Sammons Financial Freedom Seminar, The Dave Ramsey Financial Peace University and most of all our loving parents who guided us to God's Word and were a constant line of counsel whenever we took time to ask.