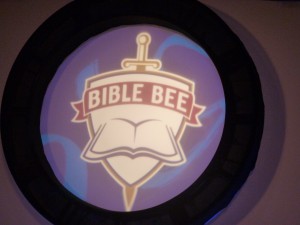 The opportunity arose for us to attend the National Bible Bee event where families from all around the nation came together to have the final rounds of competition. Far from most competitions such as sports or county fairs, this competition involved the most important discipline of the Christian life—the memorization of God's Word. Young people worked diligently for months. Many of them learned over a thousand verses and could quote them word perfect.
As the days approached for us to attend the events of the Bible Bee, word came that the coordinators of the event really needed a Contestant Judge and they asked if I would be available. I told them that I would be delighted to listen to young people quote Scripture. We were excited, but also not sure at how everything would work. Little did we know how God would answer prayer and supply our needs.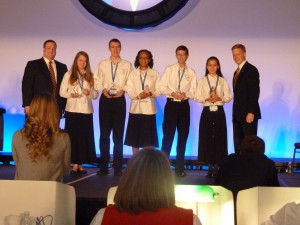 For example, I looked to find a good hotel in the area, but everything seemed so high priced. Even a super eight was around $50 and was in a poor area of town. I just had a peace that God would provide. Sure enough, the delightful Bates Family with nineteen children offered for us to stay with them.  Wow! What a blessing. Some of our staff were able to stay with them, but I was concerned about driving an hour each way plus needing to be at the Judges Training late the first night only to come early in the morning to be a judge.
As we were on our way down, I received a phone call from the president of the National Bible Bee saying that our hotel would be covered. It was not just covered—it was a beautiful room in the most convenient place of the whole lodge and Convention Center. When the time came for me to make congratulatory remarks and help award the finalists their trophies, I marveled at how blessed I was to be able to participate in such a God-honoring event. I also was amazed at how God provided for our needs in direct answer to prayer through the very gracious staff of the National Bible Bee.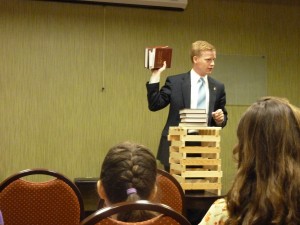 Just after the conference concluded and we had said our final good byes, we packed up and headed to the Bates for the Sunday church service. The night before, Mr. Bates asked if I might share a lesson at Sunday School. What a special time of fellowship we had together both at church and back at the Bates home later that day. We even got to go to some horseback riding—something I had wanted to do with Priscilla since our honeymoon nine months earlier. After a wonderful time at the Bates we began what turned out to be quite an adventurous journey down to Florida. On Thursday, we will post an unforgettable story that almost left us in big trouble.